Beatles Tribute Band Brings The Fab 4 To Life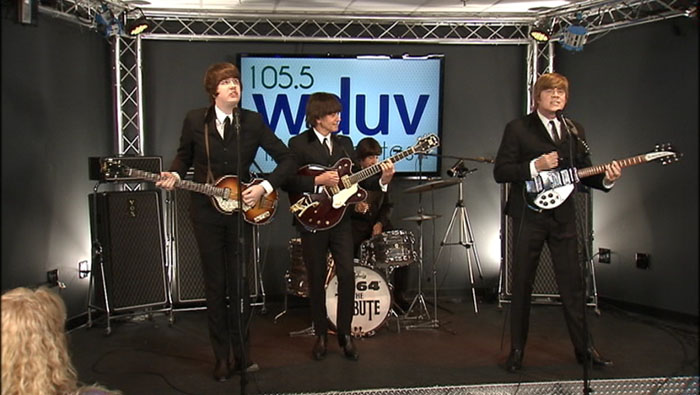 You'd need a time capsule or Marty McFly's DeLorean to see and hear the Beatles in their glory days. But if you closed your eyes this weekend at the Mahaffey Theater, you just might think it was 1964 all over again. In fact, if you opened them, you might still think the same thing. Paul, Ringo, George & John may not take the stage, but Graham, Bobby, Tom and Mark will make you do a double take.
Rolling Stone Magazine called "1964 The Tribute" the best Beatles tribute band on the planet. And at last count, Bobby, who plays 'Ringo Starr,' says he heard there are 77 Beatles tribute bands touring right now. "So it's quite an honor," he says of the accolade. "1964 The Tribute" mimics their every detail, from their amps, to their guitars, to their clothes, their hair and their voices. They even have the same wit. When asked if they find themselves still playing their Beatles characters at home when they take off the clothes and put down their instruments.
"We used to take our clothes off together, but we don't do that anymore," says Mark, as the others burst out in laughter. 1964 is the year the original fab four set the world on fire, and these guys say they have the best jobs in the world — because they get to play their heroes on stage, and it's as fun for them as it is for their fans. "It's all hand-clapping, fun stuff," Bobby says. "People get up and dance, and everyone leaves happy, and you can't go wrong with that."
1964 the Tribute has been touring the world since 1984, performing nearly 3,000 shows. They've impressed fans and critics worldwide, and they've watched as the ages of their audience get as wide as the smiles. "When you look out in the audience, see three generations," Mark says. "Everyone's enjoying themselves, and nobody's going, can we go home now? It's fantastic, really."
Author: Mark Wilson