Michael and Amy – Comedy Dueling Pianos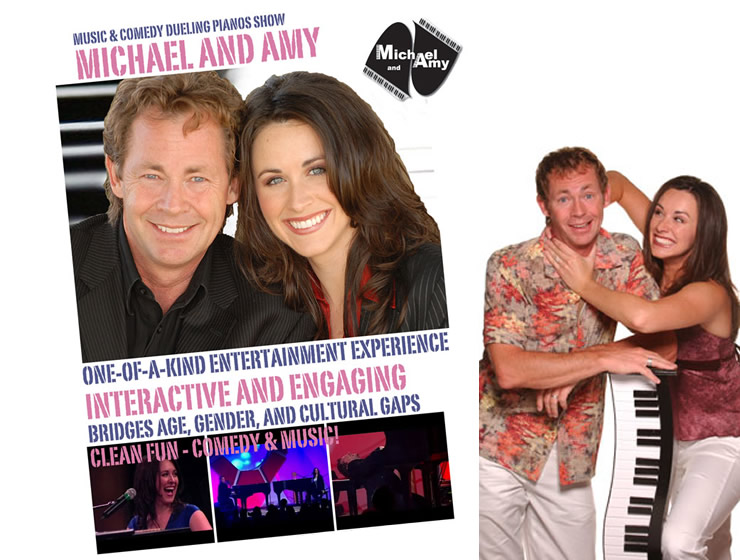 Michael and Amy's music & clean comedy dueling pianos show is an award winning "feel-good-fun-entertainment-experience" for audiences of all ages. Audience members consistently describe Michael and Amy's show as, "Unexpected", "Hysterical", "Incredible Talent", and "SO MUCH FUN!" One moment you're singing at the top of your lungs, the next doubled over in laughter, and then… breathless. Always fun. Always exciting. Completely entertaining.
With a decade of clients ranging from local and state associations to international Fortune 500 Corporations Michael and Amy understand what it takes to create and deliver highly entertaining, professional, fun-filled entertainment. From groups of 50 to 5000 people leave Michael and Amy's show grinning ear to ear, laughing, singing knowing their favorite songs now have a whole new way of making them smile. A reminder of the fun they'll never forge
Michael and Amy's show is a magical and eclectic mix – part music, part comedy, part theatre, part concert, part improv, and all chemistry. Their genius lies not just with familiar music that engages audience members but with what they DO with the songs that turns an auditorium full of strangers into a singing, laughing, cheering family of friends. Act Two is Decided By You! During intermission audience members fill out "song requests" to drive all the fun for the second act; the result is an exciting, spontaneous, and electrifying performance completely under the direction of the audience!