The Water Coolers: Singing Comedy Troupe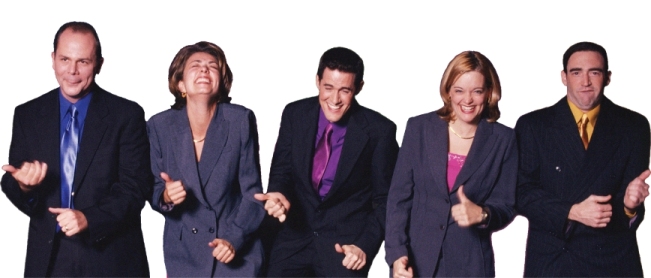 The Show
Do you ever feel like you've got all your eggs in one basket, six balls in the air, and 7,000 emails to return? Well, gather' round The Water Coolers… a high energy, laugh-out-loud evening of award-winning song and sketch comedy.
For anyone who's ever been held captive by a help line (And Hold Please), or stalked by a sales parent (Who Will Buy — This Crap For My Kid's School), or found themselves judged by how many words a minute they can type with their thumbs (Blackberry), The Water Coolers take a hilarious look at what we go through just making every week happen.
You don't have to work in an office setting, or even have a water cooler at home, to enjoy the musical comedy show. "The large majority who come to see our show are not necessarily working in an office, but who have families and go through the same struggles an office worker may go through and at the end of the day get through it all," said Peter Brown, one of the five actors in the show who was originally hired for the Off-Broadway production.
"Whether playing for a corporate audience in Las Vegas or at a theater in Paducah, Kentucky, people recognize themselves in the show. And I always hear someone in the audience saying out loud, 'Hey, that's you,' he added.
As their name implies, The Water Coolers will be joking about things people really do talk about at the water cooler in an office setting – life, work, kids, husbands, wives, travel, technology – and trying to balance it all.
"Like the guy down the hall from you who always looks busy, but you don't know what he actually does, to the woman four cubicles down from you who is constantly coming in to sell her daughter's Girl Scout cookies and you wonder why she doesn't just cut a check herself," said Brown. Simply put – it's your life!
The Water Coolers was first presented Off-Broadway in 2002 by Steven Baruch, Marc Routh, Richard Frankel, Tom Viertel, Pete Herber, Ross Meyerson, Ken Gentry and Rodger Hess.
In 2009 it received 2009 Ensemble Entertainer of the Year Spotlight Award from Event Solutions Magazine.
The Performers
Based in New York City, The Water Coolers has become a working home for some of the finest and most exciting comics and singers in professional show business.
Resumes among current cast members include performances at top comedy clubs like Igby's, the Improv, the Comic Strip, The Broadway Comedy Club, and the Icehouse, and either the Broadway or Broadway touring production of such shows as Rock of Ages, The Drowsy Chaperone, Spamalot, Wicked, The Lion King, In The Heights, Les Miserables, Mamma Mia, Grease, Nine, Fiddler On The Roof, Saturday Night Fever, and many more.
The Creative Team
A unique combination of NY comedy writers, directors, and business people from around the country work together to create a funny, smart, authentic take on work and life.
Director/Writer Thomas Michael Allen who co-created Tony and Tina's Wedding (the record-smashing, longest running comedy in New York theater history), voiced the role of Peanut on the acclaimed animated comedy series Harvey Birdman: Attorney At Law and has appeared in hundreds of commercials.
SmartMoney Magazine editor and columnist, Matt Heimer (writing team).
Former CEO and investment banker from Dallas, life-long composer, E. Andrew Sensenig (writing team).
Successful sales manager from Northern Virginia, Joe Allen (writing team).
Actor and comedy writer who has sung with Paul Simon and The Manhattan Transfer, Marya Grandy (writing team).
Composer of Off-Broadway's The Great American Trailer Park Musical, David Nehls (writing team).
Choreographer Timothy Albrecht who has also served as associate choreographer of The Rosie O'Donnell Show and choreographer for The View.
Artistic Director, Thomas Michael Allen
A creator of the long-running New York comedy hit, Tony and Tina's Wedding … winner of the New York Charlie Award for Comedy, the LA Weekly Award, and the Outer Critics Circle Award … record-breaking 20+ year NYC run … successful productions in Chicago, Los Angeles, Baltimore, San Francisco, Boston, Las Vegas and internationally in London, Berlin, Munich, Sydney and Tokyo
Wrote and performed his stand up act in LA clubs, including the nationally recognized Igby's, Ice House, and the Improv.
A founding member of Artificial Intelligence, hailed by the New York Times as "the comedy group of the 90s"
A successful voiceover and commercial actor … hundreds of spots for such clients as Lincoln-Mercury, Coca-Cola, Burger King, The Cartoon Network, HBO, Canon, EDS and many others
Voiced the role of Peanut in the animated television series Harvey Birdman, Attorney at Law (Cartoon Network), also staring Gary Cole and Stephen Colbert
Featured in roles on television's Law and Order and numerous comedic appearances on Late Night with Conan O'Brien.
See more information about the Water Coolers.
Author: LCCNA